forum.crypt
The Crypt began life as a fan website for TV shows like Buffy and The X Files. It would've been consigned to obscurity if not for its strange and lively forums, which became a place for amateur ghost-hunters, budding cryptozoologists, urban legend enthusiasts and nascent conspiracy theorists to congregate. forum.crypt flourished as a peculiar corner of the net, not least because it started to gather disturbing and compelling paranormal evidence…

Users of the forum have begun to realise that the corners of the internet hold some very strange things. Rumours of spirits possessing abandoned webpages. Cursed gifs which doom those who see them to a violent demise. Chain emails which warp the fabric of fate. forum.crypt lies at the centre of it all – a record, and perhaps a feeding ground, for all that is eerie…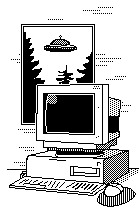 Blast back into the internet culture of the early 2000s with forum.crypt, a horror party tabletop RPG from the creator of Bar the Windows, Bolt the Doors. Designed for quick sessions of collaborative spooky storytelling around retro mysteries and urban legends, forum.crypt does not require a GM. Instead, all players take part as users on a strange internet forum, delving into an eerie tale, and wondering whether or not they can trust one another...
Perfect for playing online or in-person, forum.crypt can also be easily adapted into a longer-form forum roleplay format!
Mechanics
The goal of forum.crypt is to work together to collect evidence in order to complete a mystery. This occurs in rounds in which players attempt investigation rolls. If they are successful, they gain prompts for finding evidence, and weave these prompts into the story. However, each round players also risk provoking spooky encounters with the paranormal, and some players may have secret agendas, which the others must try to uncover or risk incurring terrible consequences...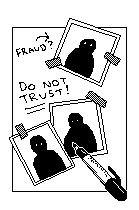 Requires
3-5 players
Writing materials, or access to an online forum or messaging service
A way to share private or concealed messages with other players
One or more sets of polyhedral roleplaying dice (d4, d6, d8, d10, d12 and d20)
What your download gets you
A vibrant, illustrated 44-page game book as a digital PDF
Access to future digital updates and additions to the digital ruleset
Purchase
In order to download this game you must purchase it at or above the minimum price of $10 USD. You will get access to the following files:
forum.crypt v1.0.pdf
4 MB